Amaltheia Organic Dairy is a sustainable, organic company that has been handcrafting organic goat cheeses for 18 years. We utilize all of our by-products and have organic whey-fed pork to sell as well as organic vegetables and composted manure.
Field Days with Sarah Brown from Yellowstone Public Radio featured Amaltheia Dairy in 2019.
There are 16 (5 minute) episodes that highlight a day in the life of an Amaltheian!
Check it out here
Sarah, Mel, Sue & Nate
We are a family run farm that makes great products while considering our impact on the land and have made it our priority to keep our property and Montana the beautiful place that it is!
Mel & Sue Brown set about their Grade A Amaltheia Dairy operation on Thanksgiving Day 2000. They started milking with 90 goats. Initially they sold their milk to a distributor making gourmet cheese for California customers but in the spring of 2002 the Browns decided to develop and operate their own cheese facility. Through careful development and stringent standards for purity and flavor, they arrived at an exceptional product that they are now marketing.
In an effort to become a completely sustainable farm, they began turning the goat's manure into compost and using the whey from the cheese to feed their pigs. Coming full circle, they use the compost to grow delicious vegetables which are sold in farmer's markets year round. Amaltheia strives to be a zero emissions operation and for their efforts they have been awarded with EcoStar Awards for sustainability in both 2008 and 2009.
The name Amaltheia comes from Greek mythology,
and refers to the goat that nursed Zeus. With Amaltheias' care Zeus became the king of the gods, and thus awarded Amaltheia by putting her image in the sky as the constellation Capricorn. He also took her horn and created the Cornucopia, which would bring abundance to all. Amaltheia reminds us of how bountiful our Earth is.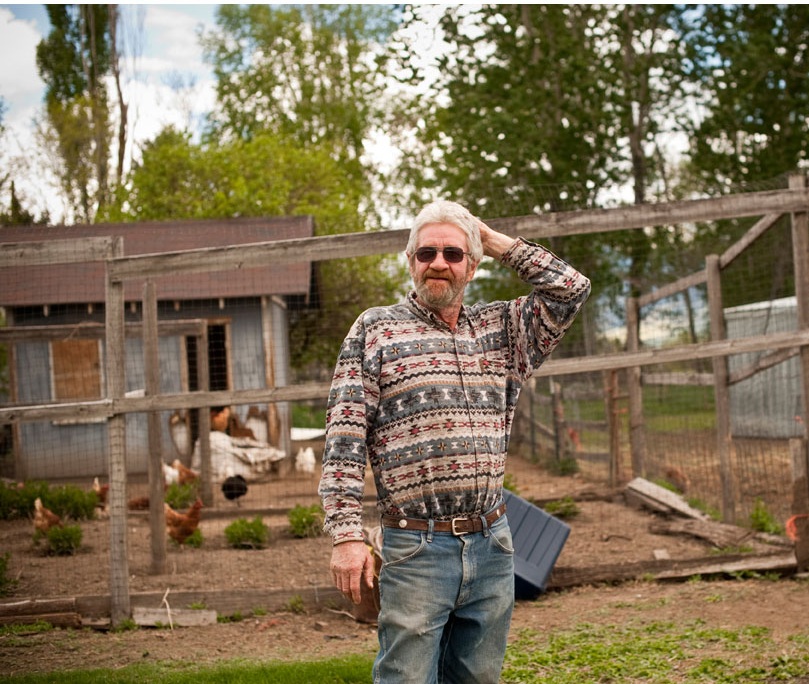 Melvyn is a farmer and an embryologist. As a child he was raised in England on a sheep ranch giving him an early love of agriculture. Then in 1972 he learned to do some of the first embryonic transplants for cattle in the world.
Embryonic transplants brought him to many countries, including the UK, USA, Mexico and Guatemala which is where he met his wife Sue. In 1982 they moved to Michigan. And then in 1988 he began working on a dairy farm. Mel has been an organic farmer and rancher for 35 years and started Amaltheia Dairy in 2000 with his wife.
Born and bred in Michigan Sue turned to farming after meeting her husband Mel in Guatemala while on a trip teaching special education students. Sue has also taught in Texas, Colorado, Michigan, and Montana. After meeting her husband Mel, he began mentoring her in raising cattle and goats which eventually became Amaltheia Organic Dairy. Today Sue is the goat kid minder as well as the head cheese maker along side her daughter Sarah.
Sarah helped with packaging and cheese production during high school. She and her mother would travel around the state and country sampling the goat's cheese at grocery stores, trade shows and distributors. The cheese is currently distributed nationwide at retailers and restaurants.
After high school Sarah moved to Maryland and obtained a Business/Marketing degree. She lived there for 6 years and worked for a Produce Manufacturer, Podiatrist and Small Bakery. She enjoyed doing volunteer work in the city and the local music scene.
Currently, Sarah is our head cheese maker for the dairy. She lives with her boyfriend, Avery, off grid in a small cabin they built; with their three dogs. She enjoys gardening, reading and cooking.
Nate attended Montana State University, studying mechanical engineering technology, but the attraction to farming remained strong. Composting the goat manure and straw bedding started his first business venture while in college. Nate took over the cheese making in 2007, further integrating himself with sustainable farming advancements. In 2008, Nate jumped at the opportunity to start raising pigs when an organic farmer from northern Montana wanted to sell them. Then in 2010, he built a high tunnel with a NCRS grant he received, starting the vegetable operation on the farm. And so, since adding new structures year to year he has built the vegetable operation that we have today.
Nate is committed to soil health, organic growing techniques, sustainable practices (and tractors, he really likes tractors).